Services
Throughout my career I have produced a varied range of commissioned artwork for individuals and companies. A selection of my artwork can be viewed in my gallery section.
My illustrated work has included many licensed characters from the Tellytubbies, Rosy and Jim, to The Magic Key. As well as licensed characters I regularly design and illustrate Greeting Cards from my own innovative designs to customer requirements.
My skills and experience include:-
Full colour illustrations to simple black & white line drawings.
Paper engineering (pop-up books & calendars).
Wedding invitations and social stationary.
Oil paintings, water-colours and pencil sketches. From personal portraits to landscapes.
Gift stationary. Greetings cards, gift wrap etc.

Children's Merchandise (Lunchboxes, Bedspreads, Cutlery, Lampshades etc).
Children's books and magazines.
Calendars.
Interior designs. Original, hand-painted art can transform any space. A mural. A painting. Perhaps you have a special project in mind, large or small please contact me for further information.
I only create 100% hand drawn or painted artwork, using traditional skills and methods. However, if required I can reproduce my illustrations in digital format. I first create the artwork using time-honoured techniques, lastly it will be digitally rendered through a variety of vectorisation methods in order to retain the original quality of the artwork for use in applications such as e-card, e-learning materials etc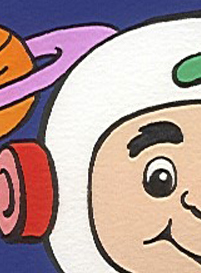 Original artwork.


Digitised version of the original artwork, resulting in no pixelation when the image is manipulated.